DOCUMENTS TO PREPARE:
Curriculum Vitae (CV) - 1 PDF document. CV must include Schools Attended - From First Grade/Primary to University. Please List Name of School, City & Country, Year(s) Attended, and Certificate/Diploma/Degree Earned (if applicable); and Working Experience - Describe your experience as a professional working in the Cultural and Creative Industry. Explain your job functions and the challenges you encountered at work and how you overcome them. Kindly state the name(s) of your employer(s), employer's contact, organization name(s), years of working, and references to all your key projects.;
Scanned copy Student ID or Driver's Licence - 1 PDF document;
A digital (in .PNG or .JPEG) passport-sized (3.5 cm x 4.5 cm) photo of yourself (front facing with light-coloured background);
Other supporting documents should be combined into 1 PDF document.
---
STEP-BY-STEP APPLICATION

STEP 1:
Kindly send us your Curriculum Vitae (CV) and other supporting documents in PDF to email info@geckomusicgroup.com. Once we have received your CV, the ICPD® Council will evaluate if you meet all the criteria for the program admission. You will hear from us within 14 days if you are accepted.
STEP 2:
If accepted, you will be receiving an acceptance email from us, and you may now pay a one-time non-refundable application fee of SGD 350.00. Please note the application fee includes an assessment and administration fee and is non-refundable. You may pay via the ICPD® APPLICATION FEE PAYMENT LINK or use the QR code below: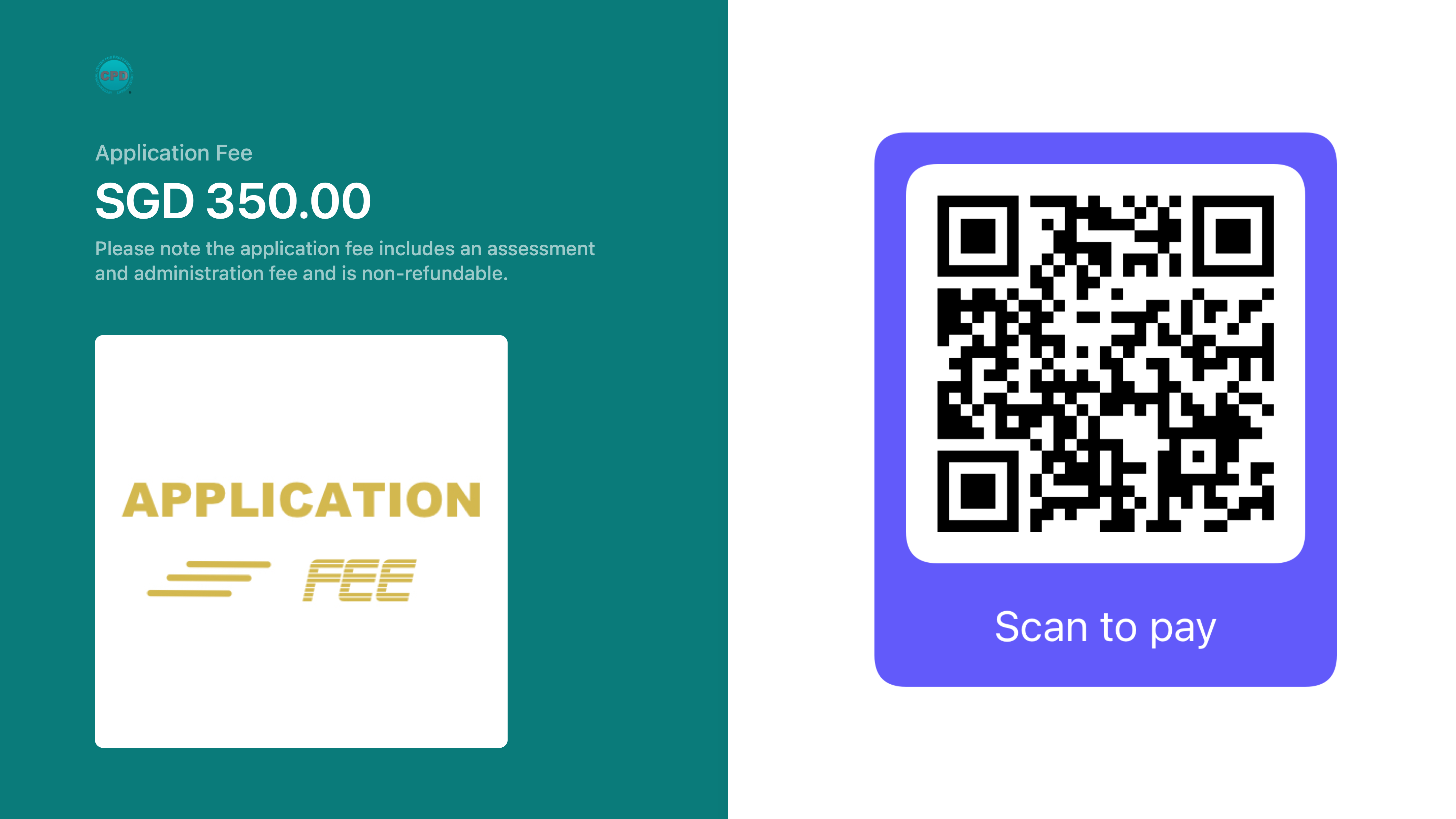 STEP 3:
Fill up the APPLICATION FORM.
STEP 4:
Once we receive your application, you will be notified of the date for your assessment. Please note that you must be physically present at the ICPD® APAC Office - Address: 71, Ubi Road 1, #05-34, Oxley BizHub, Singapore 408732, to take the mandatory assessment under the supervision of an ICPD® official. If your physical presence is not possible, contact us in advance for an online assessment arrangement.
STEP 5:
You will need a 75% mark to pass. You will be granted 3 attempts within the allocated time frame. The Council may require you to take further assessments if and when necessary.
STEP 6:
If you passed, you could now proceed with placing an order for your hardcopy diploma at a fee of SGD 980.00. This fee includes the registered mailing of your hardcopy diploma and the creation of your new registry in the ICPD® Global Database. You may pay via the ICPD® DIPLOMA ORDER PAYMENT LINK or use the QR code below.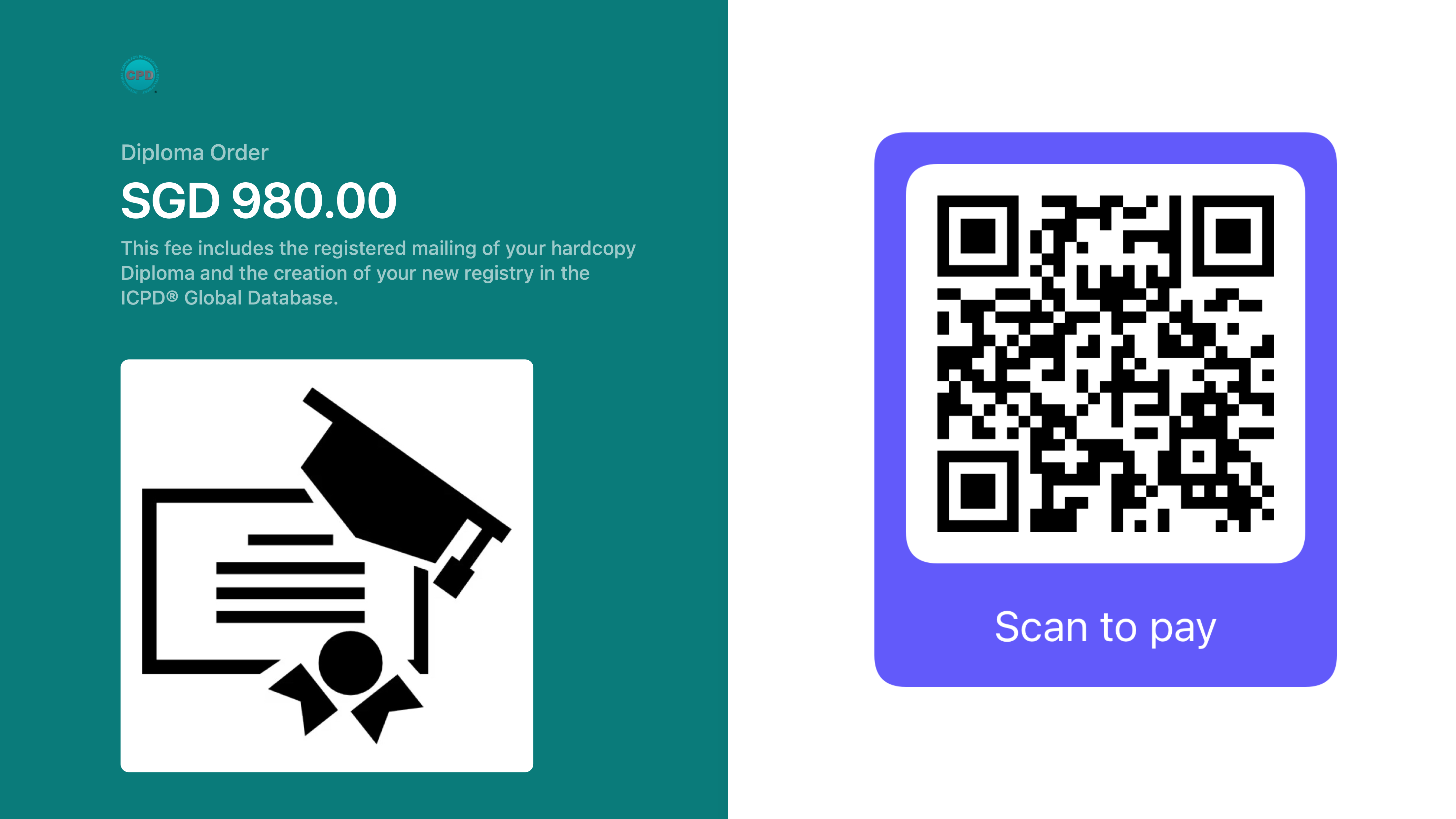 STEP 7:
Once payment is received, your diploma will be processed within a month. You have two options to receive the hardcopy diploma: (i) have the diploma mailed to you; or (ii) self-collect from the ICPD® APAC Office - Address: 71, Ubi Road 1, #05-34, Oxley BizHub, Singapore 408732. This option includes official photo taking for the ICPD® Archive. Congratulations!
---
Empower Yourself. Get Skilled. Get Certified. Get Hired.