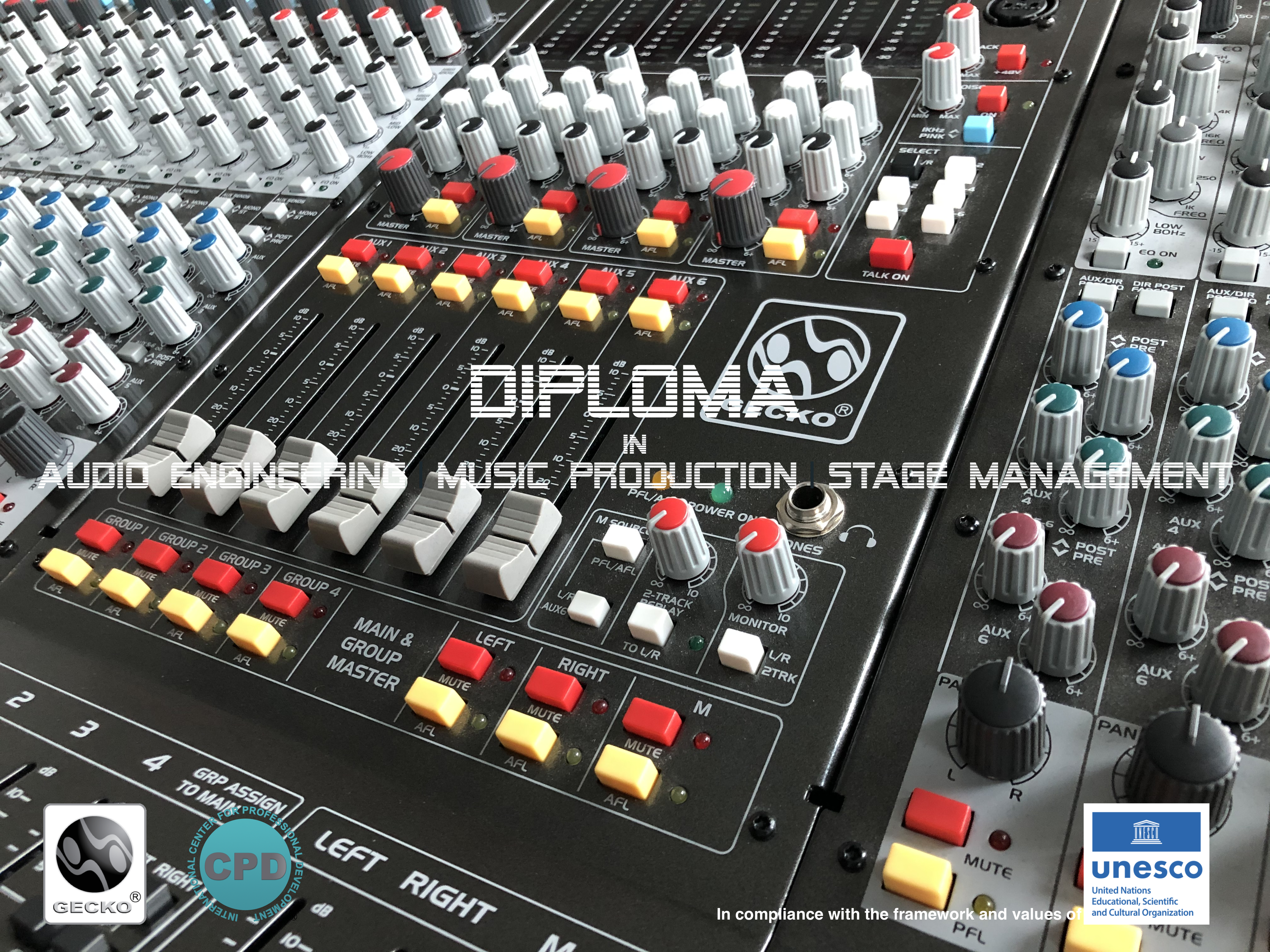 The Diploma in Audio Engineering and Diploma in Music Production programs are accredited competency-based programs jointly developed by GECKO® and the International Center For Professional Development® (also known as ICPD®), initiated and dedicated to helping professionals working globally in the Cultural and Creative Industries in compliance with the values of the UNESCO framework, for empowering professionals working in the live shows, concerts, events, and studio sound industry with the following criteria:
Requirements:
Any individual who has 5 years or more of professional working experience in their respective field under the Cultural and Creative Industries may apply for our accelerated diploma program.
Individuals who do not meet the criteria for the accelerated diploma program may also apply for our full diploma program. Interested parties in the full diploma program can contact the admission office for more information.
Application is open to all individuals working in the Cultural and Creative Industries. Everyone should be given a fair opportunity for education and career advancement. Applicants shall be assessed based on their talents, skill sets, and competencies regardless of their societal status, race, national origin, gender, religion, and academic level.
---
DAE - Diploma in Audio Engineering
ACO - Acoustic Designing
CSM - Church Sound Ministry
LOS - Location Sound Engineering
LSM - FOH & Stage Mixing
SSD - Sound System Designing
DMP - Diploma in Music Production
MAS - Mastering
ARR - Music Arranging
SWT - Songwriting
MIX - Studio Mixing
REC - Studio Recording
DSM - Diploma in Stage Management
SLT - Stage Lighting Designing
SMG - Stage Managing
SPC - Stage Props & Costume Designing

---
Documents to Prepare:
Curriculum Vitae (CV) - 1 PDF document;
Scanned copy Student ID or Driver's Licence - 1 PDF document;
A digital (in .PNG or .JPEG) passport-sized (3.5 cm x 4.5 cm) photo of yourself (front facing with light-coloured background);
Other supporting documents should be combined into 1 PDF document.
---
Application Steps:
Send us your Curriculum Vitae (CV) as well as other supporting documents in PDF via email info@geckomusicgroup.com.
Once we have received your CV, we will evaluate if you meet all the criteria for the program admission. You will hear from us within 14 days if you are accepted.
If accepted, you will be receiving an acceptance email from us, you will now pay a one-time non-refundable application fee of S$ 150.00 (+5.5%), and fill up the application form should you choose to proceed to apply for the program officially.
Once your application fee is received, you will be notified of the date for your assessment. Please note that you are required to be physically present at the ICPD® APAC - Address: 71, Ubi Road 1, #05-34, Oxley BizHub, Singapore 408732, to take the assessment under the supervision of an ICPD® official.
On the day of the assessment, you must complete and submit the assessment within the designated time. You will need to achieve 75% correct answers to pass. Marks achieved lower than 75% are considered a fail. You have 3 attempts. If you fail on all 3 tries, you will need to wait for three months before we reschedule you for another assessment. You do not need to pay another application fee of S$ 150.00 (+5.5%).
Once you have successfully passed your assessment, only then you pay for your diploma (the fee is subject to the type of program enrolled and subsidy availability). Once payment is received, your diploma will be processed within a month. You will receive your diploma via 2 options: (a) mail to you; or (b) self-collect from the ICPD® APAC - Address: 71, Ubi Road 1, #05-34, Oxley BizHub, Singapore 408732. Congratulations!
Please note that transcript purchase is optional.
---
Other Courses
GECKO® will be offering other Audio Technology CPD Certifications and Training in the future. Stay tuned!
---
Empower Yourself. Get Skilled. Get Certified. Get Hired.